Diversity in Organizations
Journal Articles
Bernstein, Ruth Sessler, Crary, Marcy & Bilimoria, Diana. (Accepted).
Working Effectively across Differences: Diversity and Inclusion at the Individual, Team and Organizational Levels
Equality, Diversity and Inclusion: An International Journal.
Buse, Kathleen, Bernstein, Ruth S., & Bilimoria, Diana. (2014).
The Influence of Board Diversity, Board Diversity Policies and Practices, and Board Inclusion Behaviors on Nonprofit Governance Practices,
Journal of Business Ethics. DOI:10.1007/s10551-014-2352-z
Bernstein, Ruth S., & Bilimoria, Diana. (2013).
Diversity Perspectives and Minority Nonprofit Board Member Inclusion,
Equality, Diversity and Inclusion: An International Journal, 32, 7: 636-653. DOI:10.1108/EDI-02-2012-0010
Book Chapters
van Esch, Chantal & Bilimoria, Diana. (Accepted).
Managing Cultural Diversity,
In Sharma, Radha R., Merrill Csuri & Kemi Ogunyemi (Eds.),
Managing for Responsibility: A Textbook for an Alternative Paradigm.
Business Expert Press, Nov 1, 2015
Bernstein, Ruth Sessler, Crary, Marcy, Bilimoria, Diana & Blancero, Donna Maria. (In Press).
Reflections on Diversity and Inclusion Practices at the Organizational, Group, and Individual Levels,
In Bendl, Regine, Inge Bleijenbergh, Elina Henttonen & Albert Mills (Eds.),
Oxford Handbook of Diversity in Organizations
UK: Oxford University Press.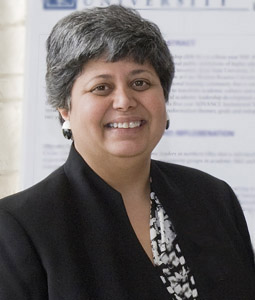 Diana Bilimoria
KeyBank Professor
Chair of the Department of Organizational Behavior
Professor of Organizational Behavior