Books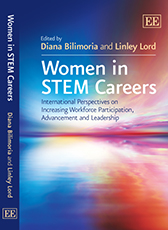 Women in STEM Careers:
International Perspectives on Increasing Workforce Participation, Advancement and Leadership
Publisher: Edward Elgar Publishing (2014)
ISBN-13: 978-1-78195-406-5
Adopting an international perspective, this book draws on current research from the United States, Australia and Europe examining women's participation, advancement and leadership in STEM fields. The book explores the nature of STEM careers across industry and academia, and presents the latest thinking on successful individual, organisational and educational initiatives related to women in STEM. An invaluable resource for scholars, practitioners and policy-makers in organisations and government, as well as for women aspiring to or presently working in STEM fields.
Editorial Reviews
Science and technology have become major contributors to our advancement and economic progress. But although more women than men now graduate from universities, women continue to face challenges in STEM fields such as engineering, mining, and university STEM teaching and research. Though progress is slowly being made, much more needs to be done. Diana Bilimoria and Linley Lord, along with their international contributors, address these concerns using theory and research evidence along with offering solutions. Organizational managers and government administrators interested in increasing women's participation and advancement in STEM disciplines need to examine this collection.
—Ronald J. Burke, York University, Canada
In an effort to move away from the usual negative approach of studying why women leave STEM areas, Bilimoria and Lord focus on a number of research studies across the United States, Australia and Europe that examine why women stay and what organizations and broader societal practices are doing to encourage women's career development. This exciting new volume has much to offer both academic researchers and practitioners in the field.
—Susan Vinnicombe OBE, Cranfield University, UK
---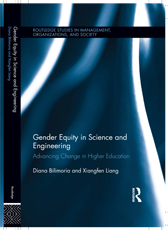 Gender Equity in Science and Engineering:
Advancing Change in Higher Education
By Diana Bilimoria, Xiangfen Liang
Publisher: Taylor & Fransis (November 2011)
ISBN-13: 978-0-41588-562-1
Women faculty's participation in academic science and engineering is critical for future US global competitiveness, yet their underrepresentation particularly in senior positions remains a widespread problem. To overcome persistent institutional resistance and barriers to change, the NSF ADVANCE institutional transformation initiative, instituted in 2001, seeks to increase the workforce participation of women faculty in academic science and engineering through systematic institutional transformation.
This book assesses the equity, diversity and inclusion outcomes of the changes underway at 19 universities. It provides a comprehensive, stand-alone description of successful approaches to increase the recruitment, advancement and retention of women faculty throughout the academic career pipeline. The findings show that targeted institutional transformation at these 19 U.S. universities has resulted in significant increases in women faculty's workforce participation, as well as improved gender equity and inclusion.
Analyses by discipline show that the greatest changes have occurred within engineering and natural science disciplines at these universities. Yet the results also point to the overall continued underrepresentation of women faculty in academic science and engineering at the nation's research universities. A framework of organizational change is derived to serve as a template to academic and other organizations seeking transformation to enhance gender equity, diversity and inclusion.
---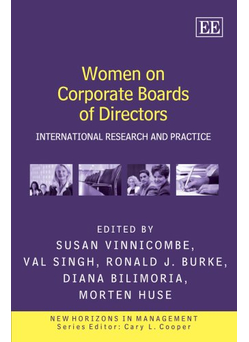 Women on Corporate Boards of Directors:
International Research and Practice (New Horizons in Management)
Publisher: Edward Elgar Pub (January 2009)
ISBN-13: 978-1-84720-480-6
This important book addresses the growing international interest in women on corporate boards of directors. The book is divided into two sections. In the first part, the position of women on corporate boards and future trends is explored in different countries, including the USA, Canada, UK, France, New Zealand, Australia, Iceland, Norway, Spain, Jordan and Tunisia.
The second part of the book reports the latest research on the experiences and different contributions made by women directors on corporate boards. These include: how women directors champion difficult issues and debates; how women influence boardroom behaviour; the contribution of women directors' human and social capital; gendered experiences and the glass cliff; the glass ceiling or a bottleneck; networking to harness local power for national impact; women on board in best practice companies; does critical mass make a difference; and, future directions for research."
"Women on Corporate Boards of Directors" brings together the significant international research base with suggestions aimed at individuals aspiring to board membership, women and men currently serving on corporate boards, companies interested in attracting women to their boards, and government bodies wanting to identify the challenges and opportunities facing them as they consider various options for increasing women's representation on corporate boards. This will also be an important book for academics interested in women directors, women's careers at senior levels in organizations and workforce diversity.
Editorial Reviews
This timely collection of case studies and research from top academics around the world, will be of tremendous value to all those engaged in bringing about greater gender diversity in corporate boardrooms.
—Jacey Graham, Brook Graham LLP
There are still common barriers that women face across many countries that keep their representation on boards of directors low and relatively unchanging. I commend this excellent, outstanding book to both academics and business management constituencies, as well as individuals interested in serving on corporate boards. The authors should be congratulated for this important contribution to the literature.
—Marilyn Davidson, The University of Manchester, UK
---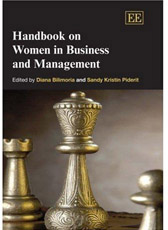 Handbook on Women in Business And Management
Publisher: Edward Elgar Pub (April 7, 2007)
ISBN-13: 978-1-84542-432-9
This comprehensive Handbook presents specially commissioned original essays on the societal roles and contexts facing women in business and management, the specific career and work-life issues of women in these fields, organizational processes affecting women, and the role of women as leaders in business and management. The essays shed light on the extant structures and practices of society and organizations that constrain or facilitate women's representation, treatment, quality of life, and success. Despite decades of ongoing inquiry and increasing interest, research on women in business and management remains a specialized field without mainstream acceptance within business and management disciplines.
The Handbook presents the current state of knowledge about women in business and management and specifies the directions for future research likely to be most constructive for advancing the representation, treatment, quality of life, and success of women who work in these fields. It provides the foundations for improved societal and organizational structures, policies, and relational practices affecting all in business and management. Thus, by enhancing the knowledge base that improves the work and life situations of women, it suggests ways to elevate the societal and organizational systems for all.
The Handbook will be an essential reference source for recent advances in research and theory, informing both scholars of organization studies, gender, diversity, and feminism; human resource specialists; and educators of and consultants to business organizations and management.
Editorial Review
This very impressive Handbook takes established research topics about women in management and treats them in fresh and novel ways. The chapters are intellectually interesting, sound, and provocative, and meet the editors' aspiration to stimulate high quality research on women's experiences in work organizations. I recommend it highly.
—Jean M. Bartunek, Boston College, USA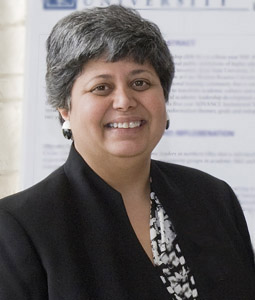 Diana Bilimoria
KeyBank Professor
Chair of the Department of Organizational Behavior
Professor of Organizational Behavior